Mexico World Cup roster projection: Goal's 23 tickets to Russia | Goal.com
Prince Keen
|
57 Views
|
2017-10-12T15:27:28+01:00
World Cup qualification is over, and while it ended on a sour note for Mexico, El Tri have the comfort of knowing their status for Russia is in no doubt. It's now time to think about who will fill the squad at the World Cup.
We have a bit of a framework to work with. First, we can glance at the team coach Juan Carlos Osorio decided to take to Russia for the Confederations Cup in the not-too-distant past. And we also have about two years of observation of what Osorio likes to do, which players he's apt to call in and who he doesn't typically favor. Osorio said before this month's victory over Trinidad & Tobago that he has a pool of 35 players he'll be evaluating during the next 10 months. Despite his tendencies to go off the radar, expect him to close ranks from here on out.
Every month until the tournament, Goal will take a look at the 23 players most likely to represent El Tri at the World Cup, updating the projection as players' form oscillates or as injuries take players out of contention. Here is October's projection: 

Guillermo Ochoa, Jesus Corona, Alfredo Talavera
The three goalkeepers in Russia seem entirely dependent on how Talavera recovers from the knee injury that has knocked him out of this season. If, as the early estimates indicated, the Toluca goalkeeper is able to come back early in the Clausura and show the same level he did prior to the ligament issue, he should be on the plane.
It's not a huge issue for Mexico if he's not. Ochoa is the undoubted No. 1, starting back-to-back World Cup qualifiers in the September cycle. His own goal and slow reaction on the third goal in Honduras on Tuesday could be a bit concerning, but Ochoa has been the man for Mexico in the past. Even if he struggles, Jesus Corona's excellent Gold Cup and solid opening to the season with unbeaten Cruz Azul means he should be fine as well. His start against Trinindad & Tobago on Friday was a reminder that Osorio hasn't forgotten about Corona and his skill set.
If Talavera can't go, Osorio has the choice of going with youth in Chivas' Rodolfo Cota, who already knows how to be the third goalkeeper in Russia after going to the Confederations Cup, or experience in Puebla's Moises Munoz.

Hector Moreno, Nestor Araujo, Diego Reyes, Edson Alvarez, Miguel Layun, Carlos Salcedo, Jesus Gallardo, Hugo Ayala
This area continues to be the place of biggest concern for Mexico, and our projection includes no players who are primarily right backs. But if Osorio is concerned about that, he hasn't shown it. Layun, Salcedo, Alvarez and Reyes all can play right back — and have for the Mexico national team in the past few months. Layun actually was quite good there against Honduras, but he looked better on the left side against Trinidad & Tobago a few days earlier. Gallardo's continuing education as a left back seems to put him in the group set to go to the World Cup. Though he still has plenty to learn defensively, he made a number of good overlapping runs from the position against Honduras.
Alvarez had a standout Gold Cup that led to minutes in the recent batch of World Cup qualifiers. After Alvarez spent the summer training with the team in Russia, though not part of the Confederations Cup squad, it's a safe bet that he'll be included, especially after his midfield minutes against Honduras showcased his versatility.
We've dropped Cesar Montes from last month's projection, with Ayala and Araujo seeming to have locked down spots behind first-choice center backs Hector Moreno and Diego Reyes.

Andres Guardado, Hector Herrera, Jonathan dos Santos, Javier Aquino, Marco Fabian
This is an experienced group, though, like in Russia, there's not a player here who specializes in sitting back and destroying attacks. Dos Santos and Herrera took that job on to some extent at the Confederations Cup, and they'll have to do so again with few top-quality options available for Mexico as a defensive midfielder.
Fabian is a big question mark here as he continues to struggle with injuries. When Fabian has been healthy, Osorio and the coaching staff have wanted the Eintracht Frankfurt man in the group. If Fabian can't recover, Orbelin Pineda seems the most likely replacement as a young player who could come on late in games Mexico is leading and tighten things up but also distribute the ball going forward.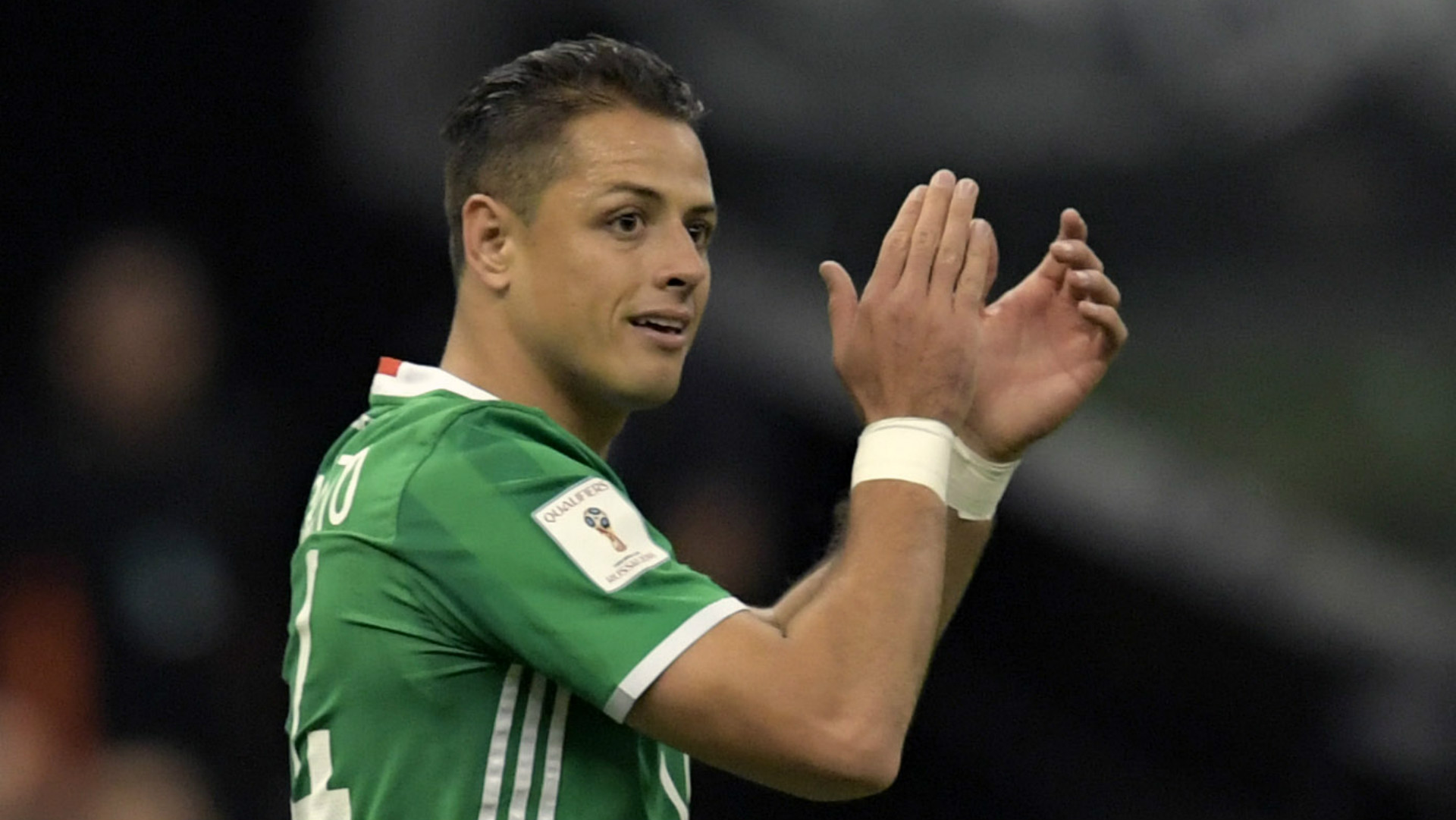 Javier "Chicharito" Hernandez, Raul Jimenez, Carlos Vela, Hirving Lozano, Jesus "Tecatito" Corona, Giovani dos Santos, Oribe Peralta
Chicharito, Lozano and Tecatito are locks based on their form for club and country since Osorio arrived. Jimenez and Vela are likely in that group as well, even as their playing time dips with their European clubs. Jimenez may try to force a move through in the winter if he continues to ride the pine for Benfica, while Vela's inclusion will depend on how quickly he adapts to MLS with Los Angeles FC.
Peralta could use a strong Liga MX campaign but the coaches like having a third center forward option, and that's something El Cepillo provides. He also showed calm finishing against Honduras. That Osorio wanted him in both the Confederations Cup and the Gold Cup before America protested speaks to how highly he values Peralta's contributions.
The may be the most solid position group and, barring injury, it is difficult to imagine any of the above players missing out.
Trending up: Oswaldo Alanis (Chivas center back), Erick Gutierrez (Pachuca midfielder), Alan Pulido (Chivas forward), Hugo Gonzalez (Monterrey goalkeeper), Adrian Aldrete (Cruz Azul left back), Orbelin Pineda (Chivas midfielder)
Trending down: Jurgen Damm (Tigres), Cesar Montes (Monterrey center back), Jesus Molina (Monterrey midfielder), Luis Reyes (Atlas left back), Moises Munoz (Puebla goalkeeper)
Read Full News Here